If you count yourself among those who are looking to open a brokerage account in the near future, then you can't go wrong looking at Firstrade, which started in 1985 as a company seeking to bring affordable stock trades to regular investors. They started their online brokerage in 1997, making them one of the oldest online stock brokerages. Firstrade also differentiates itself from the competition because they offer investment products for international investors, including Chinese language support (more on this below).
Firstrade Brokerage Account Review
Firstrade Features
Firstrade offers over 11,000 Mutual Funds, No-Fee IRAs, Mobile Trading, Free Streaming Quotes, no minimum deposits to open an account, and is available to US and international investors. In addition to English language support, the Firstrade website is also available in Chinese (Traditional and Simplified), and they offer Chinese language customer service.
Firstrade has been recognized in many industry reviews, offers inexpensive stock and investment trades, powerful investing tools, and an educational center to help investors make the right decisions for their individual situation.
Firstrade Pricing, Types of Investments, & Investment Accounts Offered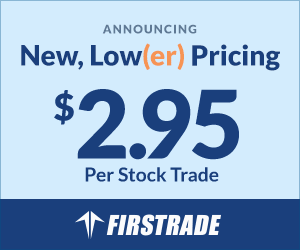 Firstrade offers some of the lowest commissions of any online stock brokerage, with individual stock trades ringing in at only $2.95 per trade. Commissions for options trades are $2.95 plus $.50 per contract. There is a 1/2 cent per share surcharge for the entire order on stocks that cost less than $1.00 per share.
Here is the pricing you will find at Firstrade:
Stock Trades – $2.95
Options Trades – $2.95 + $0.50 per contract
Mutual Funds – $9.95
Broker Assisted Trades – $19.95
Limited number of commission free ETFs
Additional Pricing / Features:
Low Margin Rates
Free Dividend Reinvestment
No Account Minimum or Minimum Deposit
No Inactivity Fees or Maintenance Fees
No Hidden Fees
Types of Investments Available at Firstrade:
Stocks
Options
Exchange Traded Funds (ETFs) (including a limited number of commission free ETFs)
Over 11,000 Mutual Funds
Treasuries
Bonds
Upcoming IPOs (Initial Public Offerings)
Types of Accounts Available at Firstrade:
Taxable (individual and joint)
Traditional IRA
Rollover IRA
SEP IRA
SIMPLE IRA
Custodial Accounts
Partnerships
Trusts
How Does Firstrade Compare to Similar Brokerages?
Firstrade has the following features:
Research & Investment Tools
Firstrade offers investors a full suite of investing services and tools to make informed investment decisions. These tools include stock  Market & News updates, Stocks Reports, Mutual Funds, Alerts, Firstrade Navigator, Real-time Streaming Watchlist, Options Wizard, expert commentary, retirement calculators, customizable stock and fund screening tools, interactive charts, and more.
Additional tools are listed below:
Customizable Account Dashboard
Fast Access QuickBar
Mobile Trading Solutions
Advanced Orders Types
Real Time Streaming News & Quotes
S&P Stock Reports, 5-Star Portfolios
Firstrade Navigator Investment Trading Platform
One of the more popular tools is the Firstrade Navigator, which is available on the online platform to Firstrade Premier customers, and available to everyone on the iPad app. Firstrade Navigator is a fully customizable tool which which streams real time quotes as the market updates, and allows you to track stocks – up to 10 separate watch lists, each containing up to 50 different tickers. The streaming charts and real-time technical analysis give you the information you need to be a better investor.
Firstrade Navigator allows you to manage your investments, perform research with real-time streaming data, and trade stocks from one screen. The layout is customizable to your needs, giving you the ability to collapse or expand columns as desired. You can also drag and drop widgets to arrange them in the order that gives you the information you want when you need it. The tool is rounded out with advanced technical charts and graphs to help you better visualize the investments in your account, or the stocks and other equities you are tracking.
Firstrade Options Wizard
The Firstrade Options Wizard provides investors with professional-grade options analytics. These tools give you insight into your potential options trades, and allow you to test outcomes before you pull the trigger on your trade. Some of these features include trading strategy checklists, trend indicators, profit and loss simulations, technical rankings, fundamental rankings, support and resistance levels, over 65 technical indicators, and over 40 complex options strategies.
Keep Track of Your Taxes
Firstrade offers customers access to Gainskeeper, which will help you track and visualize your tax situation by giving you real time access to your realized gains and losses. Gainskeeper makes it easy to track your long term and short term capital gains, cost basis, losses, and wash sales, as well as the ability to generate IRS forms. You can easily export this information to Quicken, TurboTax, or other money management software programs.
The Firstrade tax center also maintains copies of your investment related tax forms, such as your 1099 – B / DIV / INT / R, Form 5498 (IRA Contribution Information), Form 5498-ESA (Coverdell ESA Contribution Information),  Form 8606 (Nondeductible IRAs), 8949 (Sales and Other Dispositions of Capital Assets), and similar tax forms. This makes it easy to download or print your forms when you file your taxes each year.
Education Center & Powerful Financial Calculators
The Firstrade education center features investment guides and other resources to help you better understand your investment options, which accounts and investments are right for your situation, and even a dedicated tax center to help you make the best tax moves for your situation.
Firstrade offers investors a variety of investment and other financial calculators to help you run scenarios, plan for retirement, and understand your financial progress. Some of these calculators include:
Net Worth Calculator
How Much to Save for College
How Much to Save for Retirement
Are Current Retirement Savings Enough
IRA Contribution Calculator
Retirement Income from IRA or other Retirement Accounts
Roth IRA Conversion Calculator
What Your Qualified Retirement Plans Will be Worth at Retirement
Asset Allocation
Return on Real Estate Investments
and Specialized Stock Trading Calculators and Tools
Mobile Trading with Firstrade
Firstrade allows investors to check balances, perform research and even make stock trades on the go. They offer apps for iPhone, iPad, and Android smartphones. These apps are full-featured and allow you to do just about everything you can do on the full website, including viewing your entire investment portfolio, tracking your gains and losses in real-time, reading advanced charts, tracking your favorite stocks, and more.
Firstrade Services & Third Party Accounts
Firstrade offers a variety of investment options for investors to take advantage of, including extended hours trading. You can quickly and easily link your Firstrade account to any number of outside financial accounts, including banks and other investment accounts, making it quick and easy to transfer funds to and from your investment account.
You can also sync your Firstrade account to third party apps and aggregators to help better manage your overall investment portfolio. For example, you can easily sync your account to Personal Capital, our favorite online investment management app (best part – Personal Capital is free to use!).
Customer Service & Account Security
Firstrade Customer Service
Firstrade offers live chat on their website, which is a convenient way to have quick questions answered. You can also access customer service through phone and email. They also have a New York City branch office where you can stop in with questions or if you need assistance with your trading account.
Phone: M-F, 8am – 6pm ET
Live Chat: M-F, 8am – 6pm ET
Email:
Fax (for submitting documents and forms)
Branch Office Hours: M-F, 8:30am – 5:30pm ET; Sat. 10am – 2pm ET
Account Security
Firstrade is a member of SIPC, the Securities Investor Protection Corporation, which protects securities customers of its members up to $500,000 (including $250,000 for claims for cash). They also maintain additional insurance through their clearing firm, Apex Clearing Corporation, which supplements SIPC insurance. SIPC coverage protects members if the brokerage firm becomes insolvent.
International Investment Accounts
Firstrade allows international customers to use their investment platform to invest in US based markets or exchanges, and other mutual funds. International customers from over 20 countries are able to enjoy the same low commissions and features as US based investors. There are, however, some limitations on who can openb an account, based on where the individual lives, or other factors.  The Firstrade website states "we are unable to open accounts of certain countries due to geographic location and/or risk profile." You will need to visit the Firstrade website or contact their customer service center for more specific information regarding eligibility.
Documents Needed to Open an International Account:
Brokerage Account Application
W-8BEN
Valid Passport photocopy
Proof of foreign residency (if the mailing address differs from the permanent address)
US residents living abroad can open a domestic Firstrade account and trade as normal. There are no additional restrictions.
Firstrade Sign Up Bonus for New Customers & Transfer Rebates
New Customer Bonus
New Fristrade customers can enjoy several nice bonuses when opening a new account. These include
500 Free Trades with a $2,000 Minimum Deposit
$100 plus 500 Free Trades with a $25,000 Minimum Deposit
$200 plus 500 Free Trades with a $50,000 Minimum Deposit
$300 plus 500 Free Trades with a $100,000 Minimum Deposit
Account Transfer Fee Rebate
Firstrade will reimburse up to $200 in account transfer fees for regular investment accounts and IRAs (Traditional IRA, Roth IRA, and Rollover IRA), excluding Partnership, Corporate, Investment Club, ESA Education Planning Account, and Custodial Accounts.
Your account must remain open for 12 months with the minimum funding or assets required for participating in the offer. Firstrade may reverse the transfer rebate at the time of withdrawal if your account assets fall below $2,500 due to withdrawals or outgoing transfers.
Wire Transfer Fee Rebate
Firstrade also reimburses wire transfer fees of up to $25 each, with a maximum of 4 rebates per month. Wire transfers must be a minimum of $25,000 or more to qualify for rebate.
Downsides to Firstrade
Overall, Firstrade is a very solid investment platform. It features low cost commissions and fairly powerful investment tools. That said, there are some other brokerage firms that offer different features, including full-service banking, more advanced stock trading tools, and managed investment services.
Many investors have begun utilizing managed investments services provided by either investment managers or robo advisors to help manage their investments. Many brokerages have taken note by rolling out their own versions of these managed services. Firstrade doesn't offer a managed investment platform at this time. That isn't a downside to someone who is a true DIY investor. But it's something to note if you want to have some input from an investment manager, or if you want to have computer software manage certain trades for you.
My Thoughts on Firstrade
Firstrade isn't a perfect online trading system, but then again, you can find something with just about any brokerage. There are some brokers that offer cheaper stock trades, and others that have a flashier interface. But Firstrade is one of the longest running online brokers which is a testament in this day and age of consolidation and flashy marketing. I would equate them to a dependable old truck – not the flashiest, but strong enough to get the job done. Which is good enough for the average investor. For more information, visit https://www.firstrade.com/