Featured Gas Rewards Credit Cards
Rising gas prices are affecting everyone across the country. Even if you don't drive very often, high fuel costs are causing price increases for food and other commodities. Even though gas prices are affecting many aspects of our economy, anyone can save money on gas if they shop smartly. One of the best ways to do that is with a gas or cash rewards credit card.
Some of these cards will earn you 3-5% cash back on gas purchases. With gas prices approaching $3 per gallon in much of the US, that equals a savings of $0.09 – 0.15 per gallon, or several dollars per fill up. Most of these cards also offer additional cash back on other purchases as well, including grocery stores, restaurants, travel, and more. Using these gas rewards cards can easily save many people several hundred dollars per year.
Featured Gas Credit Cards
Great For: Cash Rewards
Annual Fee: No Annual Fee
Credit Needed: Excellent/Good
Apply Now
Earn cash back twice on every purchase with unlimited 1% cash back when you buy, plus an additional 1% as you pay for those purchases.
Balance Transfers do not earn cash back
0% Intro APR on Balance Transfers for 18 months. After that, the variable APR will be 13.24% - 23.24% based on your creditworthiness
Click 'Apply Now' to see the applicable balance transfer fee and how making a balance transfer impacts interest on purchases.
No categories to track, no caps on cash back, no annual fee*
Credit Needed:
Varies by Issuer
Great For: Gas Rewards, Cash Back, Point Rewards, More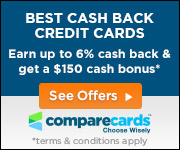 Search Now
American Express
Barclaycard
Bank of America
Capital One
Chase
Citibank
Discover
US Bank
and more...
What to Look for When Comparing Gas Credit Cards
While some cards offer a general rewards program, others offer specific gas rewards programs that can help you save on the cost of your commute over time. With these offers, you are generally awarded a certain percentage of cash back on all of your gas or gas station purchases.
While some gas rewards cards offer cash back on gas purchases only, others are cash back cards that offer rewards on purchases other than gas. Meanwhile, some cards offer a lot of cash back – as much as 3% – on gas purchases while offering 1 or 2% back on other category purchases.
Here are some additional details you should know about gas rewards cards:
Some offer more cash back on gas purchases based on categories that rotate each quarter – While most gas cards offer cash back as a fixed percentage of your spending, a handful of cards may offer more cash back during certain quarters each year. During those "bonus periods," you can earn as much as 5% cash back on all gas and gas station purchases.
A handful of gas rewards cards offer a sign-up bonus – In addition to the opportunity for ongoing rewards, some gas cards offer a sign-up bonus to customers who meet a minimum spending requirement within a certain length of time – usually around 3 months. In some cases, the sign-up bonus alone can be worth $200 or more.
Interest rates are generally higher for all rewards cards, including gas rewards credit cards – Like all rewards cards, gas cards charge higher interest rates than almost any other type of card. If you want to avoid paying a lot of interest, you'll need to pay your balance in full each month.
Some cards have limits on how much you can earn – While some gas cards offer an unlimited amount of cash back, others put a cap on how much you can earn each year or quarter. In some cases, these earning caps can drastically limit the rewards you earn over time.
Many gas cards charge an annual fee – Since gas credit cards are a type of rewards card, many charge an annual fee. If you don't plan to use your card regularly, the annual fee may even be enough to wipe out any rewards or cash back you earn.
5 Steps to Select a Gas Rewards Card
As you explore the world of gas rewards cards, you'll find that not all are created equal. While some offer generous rewards programs that might tempt you, others offer lower interest rates or other non-monetary benefits. These steps can help you end up with the best gas card for your unique situation:
Step 1: Know your credit score.
When you're selecting any type of credit card to apply for, your first step should involve finding out what shape your credit is in. If your score is excellent, or anything over 780, you should have no problem qualifying for the card of your choice. However, if your credit is just good (661-779), fair (601-660), poor (501-600), or bad (anything lower), you may encounter some problems. Either way, knowing your credit score ahead of time is half the battle.
Step 2: Compare rewards programs and determine whether they make sense with your spending habits.
When you're choosing a card based on the rewards program only, take a close look at how points are earned. Ask yourself if your gas and regular spending will be enough to translate into big rewards over time. If you're looking for a card for everyday use, it's also important to pick an option that offers rewards on more than just gas purchases.
Step 3: Compare fees and interest rates.
Now that you've sifted through the various rewards programs, it's time to learn about the various fees you'll need to avoid. In most cases, that list will include easily avoidable charges like over-the-limit fees, late fees, and foreign transaction fees. If your card has a high APR, or Annual Percentage Rate, you'll also want to make sure you can pay your balance in full and on time, every single time.  Many times you can avoid interest by signing up for one of the zero percent credit cards.  These cards will offer you a 0% rate for a period of time.  This can save you a lot of money if you are carrying debt and transfer that high interest debt to the low interest card.
Step 4: Weigh the pros and cons of an annual fee (if applicable).
Don't necessarily rule out a card with an annual fee. Depending on your spending habits, paying an annual fee can be more than worth it. It truly depends on how much cash back you hope to earn and how that stacks up to how much you might earn with comparable, no-fee cards. If you want to know whether an annual fee is worth it, do the math.
Step 5: Pick the card that offers the most benefits for the lowest cost possible.
Once you've sorted through the details of each offer, you should have a general idea of which card you want. Most of the time, the best card for you will be the one that provides the most cash back and the best benefits for very little out-of-pocket cost.
Bonus Tip: Shop Around.
Comparing Credit Card Offers is the easiest way to get the best credit card for your needs. There are literally thousands of credit cards out there, and with a little legwork, you can find a credit card that offers you flexibility and valuable savings. When shopping for a gas card, don't forget to investigate store brand cards and credit unions. Some of these offers may be better based on your needs. Keep in mind that some gas credit cards can only be used at gas stations, or may not offer cash back if they can be used elsewhere. You may also be able to find a great deal with your credit union if you belong to one. Be sure to shop around.
Get Gas Often? Get a Gas Card
Whether you drive a lot or a little, getting a gas card or flexible cash back card is almost a no brainer. Depending on how much you spend on gas and other purchases, you could knock hundreds of dollars off of your transportation costs over the months and years.
And if you drive a lot for leisure or commute to work, getting a gas card makes even more sense. Not only can you earn cash back and other rewards on purchases you were going to make anyway, but you can also use your card to continue building a positive credit history.
But here's the best part: By using your card for gas and everyday purchases and paying it off every single month, you can often earn a slew of benefits and some serious cash with very little – or even no – out-of-pocket cost.
Advertising Disclosure: This page contains advertisements. This page does not include all available credit card offers from all advertisers (that would be literally hundreds, if not thousands of credit cards). This credit card review was not reviewed by, endorsed, paid for, or approved by Citi or any other credit card issuer. All opinions, reviews, and recommendations reflect the author's honest opinions, beliefs, and experiences. We receive compensation from our advertisers. Compensation impacts how and where products appear on this site (including for example, the order in which they appear). Back to Top.
.